Make Your Home an Ant-Free Zone With Our Expert Services
At Pest Control Scarborough, we understand the need for pest control service in your home for harmful pests. Well, our mission is simple as we offer Professional Ant Pest Control Services to the customers at Scarborough. We make our customers pleased by exterminating ants which can spoil the food items and cause health issues. Our professionals offer both Residential and Commercial Ant Pest Control Services to the customers.
Upon booking our service, our Ant Pest Controllers perform a thorough inspection of the customer's property. The inspection is carried out to know the type of ant and their source of entering your home. Once the inspection is completed, our professionals will carry out a customized plan along with you to remove the pests from your property. We use environmentally-friendly products that are highly effective and completely safe for your family and pets. For immediate services of Ant Control Scarborough, call us on 02 4058 2709 immediately.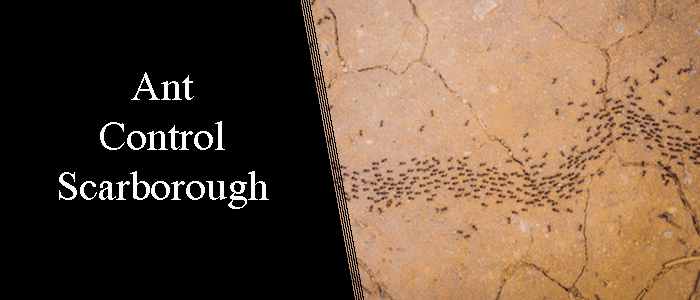 Types Of Ants Commonly Found In Scarborough
| | |
| --- | --- |
| 1. Acrobat Ants | 2. Crazy Ants |
| 3. Argentine Ants | 4. Field Ants |
| 5. European Fire Ants | 6. Sugar Ants |
| 7. Asian Needle Ants | 8. Pharaoh Ants |
| 9. Dark Over Ants | 10. Ghost Ants |
| 11. Pavement Ants | 12. Bull Ants |
| 13. Carpenter Ants | 14. Green Ants |
Save Your Time And Effort With Our Affordable Ant Control Services
We always believe in our customer satisfaction. Therefore we provide services that are affordable, long-lasting and 24/7 hours available for the people of Scarborough. We have a team of staff dedicated to providing pest control services round the clock according to your convenience. Our services are affordable and contain quality as we work professionally for providing the services. All our Expert Pest Controllers are certified, highly trained, and licensed service providers.
Just by calling us, you can know more about our Affordable Ant Control Services and book our service providers with just some simple steps.
Ant Control Scarborough
Call Us 02 4058 2709 No.1 Pest Control Specialist
Location: Scarborough, NSW 2515, Australia